Chapter Six - Developing The Ministry of Prophecy - PART THREE
Developing the Prophetic Ministry
Review of Chapter Six – Developing the Ministry of Prophecy - PART THREE
Objective
To review basic biblical guidelines for developing the prophetic gift under the guidance of the Holy Spirit through the power of God's Word.
Review of Developing the Prophetic Ministry by Frank Damazio, Chapter Six – Developing the Ministry of Prophecy
Lecture Notes
9.   Speak forth the Word of God for the purposes of God.
The Word as a fire which purifies from dross. (Jeremiah 23:29)
The Word as a hammer which breaks bondages. (Jeremiah 23:29)
The Word as a lamp which gives direction. (Psalm 119:105)
The Word as a mirror which causes a person to see his real self. (James 1:21 – 25)
The Word as milk which gives spiritual nourishment to spiritual babes. (I Peter 2:2)
The Word as a rod which measures the Church. (Revelation 11:1 – 2)
The Word as a seed which produces faith and growth. (I Peter 1:23)
The Word as a sword which defends and discerns one's heart. (Hebrews 4:12)
The Word as water which cleanses and refreshes the soul. (Ephesians 5:26)
The Word as honey which tastes good to the soul. (Psalm 19:7 – 10)
The Word as bread which feeds the soul and supplies one's spiritual needs. (Matthew 4:4)
The Word as an ox goad which prods a person onward. (Ecclesiastes 12:11)
The prophetic word from the Lord is to be a word of:
13. Healing. (Psalm 107:20)
14. Hope. (Psalm 119: 114, 147; 130:5)
15. Strength (Psalm 119:116)
16. Rejoicing (Psalm 119:162; Proverbs 12:25)
17. Deliverance (Psalm 119:170)
18. Proper timing (Proverbs 15:23)
19. Fruition (Isaiah 55:8 – 11)
20. Life (Philippians 2:16; I John 1:1)
21. Christ (Colossians 3:16)
22. Exhortation (Hebrews 13:22)
10.   Receive the quickening of the Holy Spirit.
        Corinthians 3:6
        Galatians 3:21
        Psalm 119:25, 154
        Ephesians 2:1, 5
        I Peter 3:18
        John 6:63
        I Timothy 6:13
11.   Be sensitive to the lifting of the prophetic spirit.
       ".. As soon as the Holy Spirit's message has been adequately communicated, the person prophesying will sense a lifting or lessening of the prophetic unction. At this time it is good for the person to be sensitive to the Spirit's leading and prepare to stop when the Spirit ceases to enable him to flow forth."
       "Some prophecies are long and some are short, but the important thing to remember is that one must start and stop according to the flow of the anointing."
12.   Learn how to begin speaking in the prophetic spirit.
·        Proverbs 28:1
·        Acts 13:46
·        Philippians 1:14
·        Ephesians 6:19, 20
The Fear of the Lord
        II Corinthians 7:1
        II Corinthians 7:11
        Ephesians 5:21
        Philippians 1:14
The Fear of Man
        Romans 8:15
        II Timothy 1:7
        Hebrews 13:6
        I John 4:18 
After

watching the video content

and

reviewing the lecture notes

, please

answer the following study questions

as supported by the Word of God and text,

Developing the Prophetic Ministry by Frank Damazio

-

Chapter 6: Developing the Ministry of Prophecy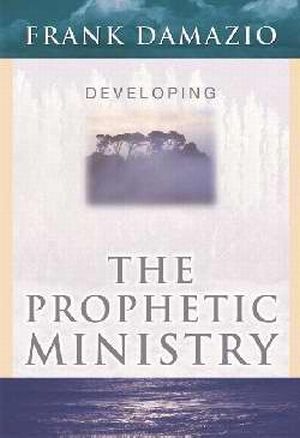 Complete and Continue